Welcome to Comics Are My Religion, a look at theology through the lens of comic books. There are some basic ground rules about engaging in respectful dialogue about religion in this column. Be warned, if you haven't read the series discussed below, you might want to go read it and come back, as this column may contain spoilers!
Last month, I was invited by one of my bishops (I am an Episcopal priest, remember?) to give a meditation at our clergy retreat. The theme of the retreat was "Pastoral Care in Anxious Times." I had never been asked to do something like this and had no idea what I was going to say. I'm a relatively new and young priest, so what would I know about pastoral care in anxious times compared to the years of experience accumulated in such a room? I pondered for a while and decided I needed to talk about what I know. And what I know is comic books.
There are no greater anxieties as the ones displayed in comic books. People who have the power to destroy or protect the very fabric of our world–our reality, even–are among those who display the most amount of fear and dread and hope and blessing. What could be more terrifying than stopping a villain from blowing up the sun? Or what could inspire more anxiety than being thwarted by a hero time and again? The characters in our beloved panels know about anxiety. So what better window through which to peer?
The depiction of clergy in comic books is no new thing. Usually, clergy in comics play only a handful of stereotypical roles. Either they are creepy child molesters, or they are narrow-minded bigots out to destroy the so-called demon-spawned protagonists. You may see the conflicted, brooding type of preacher or pastor who is losing his faith, contrasted to a more "faithful" non-believer, who show him the way. Lots of times, clergy in comics are played specifically against type, wearing the clothes of a clergy person, but displaying a personality that would curl the collar of any bishop or pontiff. Every once in a while, you might get a caring priest or a loving nun, but overall, the role of the clergy person is not one that evokes warm fuzzies among the superhero community or the readers of such comics.
Typically I roll my eyes whenever I see a William Stryker or a Jesse Custer or a Church of Universal Truth clergyman because, like a doctor who watches House and scoffs, I'm just too close to the source material. None of these clergy types know anything about pastoral care in the midst of anxious times. If anything, they teach us how to be more anxious in anxious times. Then along comes Peter David's X-Factor.
X-Factor (the current book, not the original book from the '80s about the original X-Men) is about a group of super-human private investigators, led by Jamie Madrox, the Multiple Man. Jamie's power is that he can make duplicates of himself, but each duplicate represents a different aspect of Jamie's personality. Only, he can't control which aspect comes out. He might need someone really reliable and creative, and instead, create a duplicate that's sociopathic. However, once Jamie reabsorbs a dupe, he absorbs their knowledge, and any physical harm that might have come to them.
At one point, Jamie decided to create a bunch of dupes and send them out into the world to learn everything they could. This is John Maddox. He's one of Jamie's dupes that went off into the world in search of enlightenment. We all know what the quintessential life of enlightenment is, don't we? John became an Episcopal priest. He serves as the rector of a small, rural parish. He's married and has an adopted son. John is the one dupe that writer Peter David visits frequently. The X-Factor team runs into him from time to time, and since John is a pacifist, and a peacemaker, he usually finds the members of the team, including Jamie, in times of complete disaster, sometimes of the super-villain sort, but most of the time, because of personal trial and tribulation.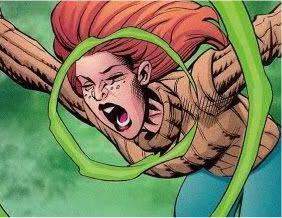 Case in point. This is Theresa Cassidy, also known as Siryn. She's a long-time member of the team. She's an Irish Catholic spitfire and the co-leader of X-Factor. She and Jamie have a love/hate relationship, which started when Theresa fell in love with Jamie, or who she thought was Jamie, but turned out to be a dupe.
Theresa has had a number of personal tragedies, including the death of her father, who was a super-powered member of the X-Men, and recovery from alcoholism. Her most recent tragedy, however, involved Jamie intimately. In a one-night stand relationship, Theresa got pregnant. She carried the baby full-term, which was interesting because she's a super-hero. She delivered a healthy baby boy named Sean, whom she named after her father.
However, in a heart-breaking plot twist, when Jamie came to visit Theresa in the hospital after the delivery, upon holding the child, he reabsorbed him. Theresa's son Sean was an infant dupe of Jamie's and was not ever a "real" baby. This spirals Theresa into utter depression. She leaves the team, and heads back home to Ireland.
In the back-up story in the recent X-Factor #200, entitled Matters of Faith, we find Theresa visiting the grave of her father. As fate, or the Spirit, would have it, she is met by the Rev. John Maddox, whom she mistakes for Jamie. She clocks him, then realizes that he does not have Jamie's facial tattoo. Realizing her mistake, she helps him up and immediately is defensive, wanting to know why Jamie has sent John there. John says he's there for a conference only and happened upon her in the cemetery.
Theresa turns to walk away, but is drawn into conversation with John. She asks him, "What does [God] want from me?" She relates all the things that other clergy have said to her, "It's all part of God's plan," "God won't give you more than you can handle," and "God loves you," the usual platitudes. John offers a different angle. "God hates you," he says sarcastically, "He looked down and said 'Theresa Cassidy has really pissed me off and I'm going to keep battering her until she breaks, because I really have nothing better to do.'" He goes on to explain that bad things just happen and it doesn't really matter if it's God's plan or not. Instead, God gives us one another to bear the burdens together.
We all know that the old platitudes don't work. In the midst of anxious times, talk of "God's plan" and "God's love" doesn't hold true, if it ever did. John's pastoral sense is to meet Theresa where she is. To confront the fact that her life really is painful, to be present within her pain, and to remind her that she is not alone.
The life of a superhero is tough. So is the life of a clergy person. We are surrounded by anxious circumstances and anxious people. And there will be times when these anxious things will make us anxious, as well. We cannot lead a completely non-anxious life. Yet God gives us one another. We never have to share anxiety alone.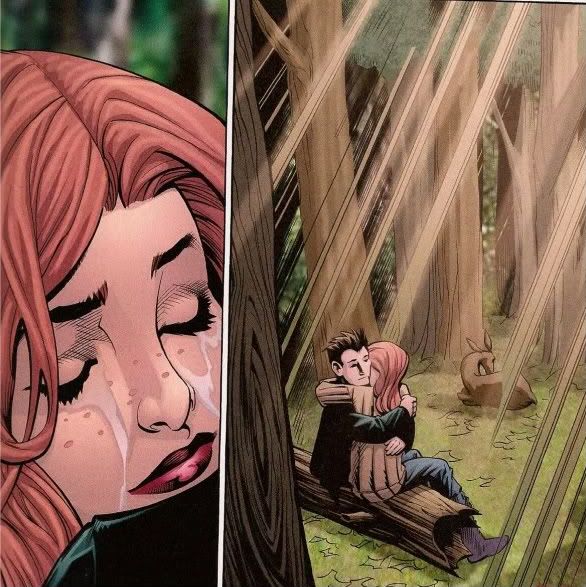 As clergy, as we deal in the business of anxiety, our job isn't to come up with the perfect answer or the next brilliant and pithy statement. Our job is to remind people that they aren't alone in their pain and anxiety.
Peter David nails good clergy leadership in X-Factor every time he writes the Rev. John Maddox. I'm struck because this is the kind of priest I want to be. For once, there's a honest-to-God role model for even the comic-collecting priest. And that's the beauty of X-Factor, and comics in general. In simple reminders like these, we realize that no matter if we are a believer or not, a Christian, Atheist, Muslim, Jew, or whatever, we are never alone in these anxious times. When we feel that God has abandoned us, we still have one another.
And that is incredibly comforting.
Jeff Jackson
jeff@comicattack.net