This month we take a look at a man who has shaken things up in the world of comics a time or two. He has gotten away with giving Mjolnir to an alien warrior with a face that resembles that of a horse, and even turning Thor into a giant frog! Walter Simonson is our subject for this month's column, and is a darn talented creative force in comics.
We've seen that many of the greats went chasing after a career in comics right out of high school, if not during. For Walter Simonson however, the road was a bit different. He made it to college, studying geology, before he got into comics. Looking at Simonson now, I think he could pass as a geologist. Can you picture him in a blistering desert somewhere, digging up the ruins of a long dead civilization? I can see it.
He'd been planning to head off to a career in paleontology, but he never realized that goal. Thank goodness he changed his mind! If not, one of the greatest talents in all of comics would very likely be poking around that remote dig site right about now. Simonson surely would've excelled in that field as well, had he chosen it. Ah well, the scientific community's loss is our gain.
By 1972 he had graduated from the Rhode Island School of Design, and had created his first Thor story, a little something just for himself. For his thesis, he created Star Slammers, which would end up as a black and white promotional comic for the 1974 World Science Fiction Convention. Star Slammers also appeared in more recent years under Malibu Comics' Bravura label.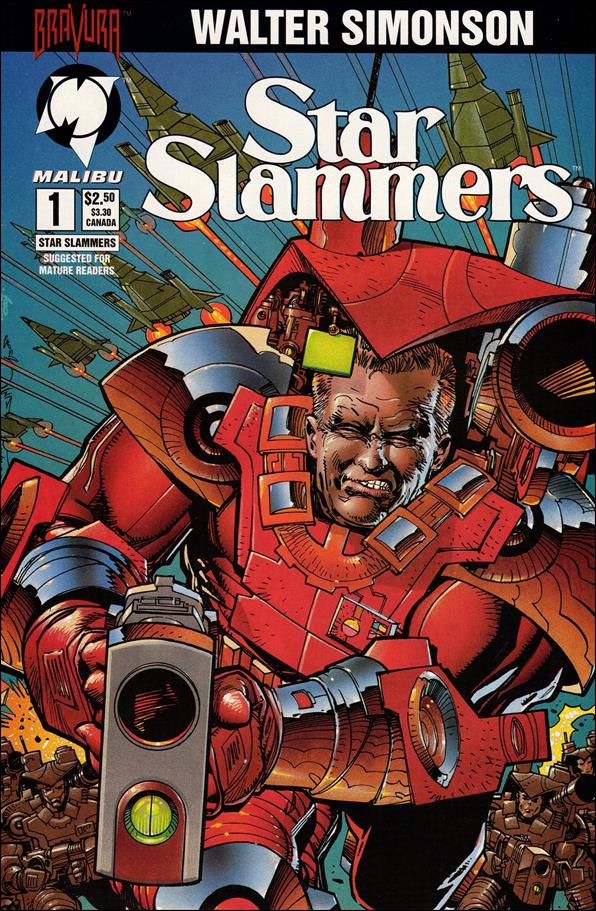 He then found himself at DC's offices. He'd shown them his portfolio and, like any man with good sense would have, they appreciated what they saw. He then got to work with some of the great names in comics, like Carmine Infantino, and Archie Goodwin. He was working in New York City, probably one of the last places a young geology major would've expected to find himself. He was living in the biggest city in the world, and finding real success in his work. It had to be one heck of an exciting time for the young Walter Simonson.
Simonson and some friends began Upstart Studios in 1978. Its members changed over time, but at one point it included Simonson, Frank Miller, Howard Chaykin, and Jim Sherman. They worked in the same space, and shared many experiences. How cool would it be to walk over to the other side of the studio, and check out what Frank Miller was putting into the next issue of Daredevil? There was also Chaykin, working on his controversial American Flagg! black and white series. These guys accomplished a lot while with Upstart. By 1987 Upstart Associates had folded, and the Simonson family had moved upstate.
His first big success was with the Manhunter series for DC, in 1973. His art on this series really got some attention, and it helped him to continue to get work throughout the 1970s. He even illustrated an adaptation of the movie Alien in 1979. It was a little later, in the 1980s that he would make an indelible mark on comics.
In 1983 he began his legendary run on Thor, as both artist and writer, with issue #337. During that time he made some controversial moves, like the aforementioned transforming of Thor into a frog. He also introduced an alien into Thor's life, Beta Ray Bill. He took Thor to places the character had never been, and succeeded in introducing Bill. Nobody expected an alien to be able to wield Mjolnir, nor best Thor in combat. But that's what Simonson had Beta Ray Bill do. Now we have some of the most memorable adventures of Thor in his history. Simonson stayed with Thor as both writer and artist through issue #367, though he continued as writer and occasional artist until 1987 with issue #387. I love what he did with Thor, and he gave me one of my favorite characters in Beta Ray Bill.
He also spent some rather interesting time on X-Factor in the 1980s. He and his wife Louise spent time on that book. How cool would it be to get to work with my wife… on comics. Ridiculously cool, that's how! Mrs. Simonson has several writing credits to her name, including some of my favorites, like Galactus the Devourer. Walter Simonson was without a doubt one of the most talented names in comics in the 1980s.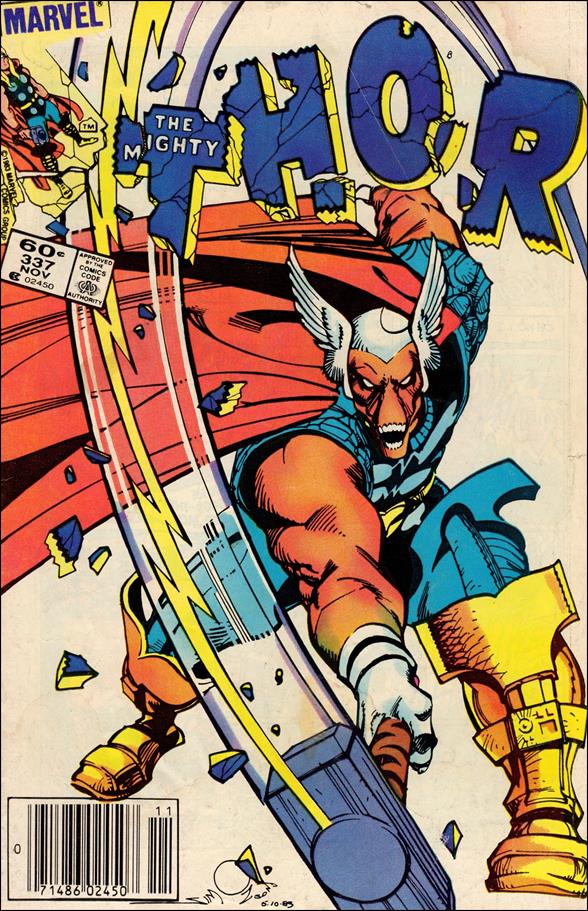 Simonson is used to being the work horse on a book's creative team. In early 1990 he took over as writer, artist, and inker (with the exception of just a few issues) of the Fantastic Four. This kept on until issue #354 in July of 1991. That was around a year and a half of writing, penciling, and usually inking as well. There are plenty of creators who couldn't hope to approach that level of turnout while maintaining the quality of their work.
In the early 1990s Simonson was one of the founders of the Bravura line of Malibu comics. It was there that his Star Slammers was published. He did work on Orion, and Wonder Woman at the turn of the century. He kept busy in the 2000s, with more work at DC on Hawkgirl, and with other publishers. He and his wife collaborated again to co-write a comic based on the online game, World of Warcraft.
Walter Simonson's work has been recognized, and he's won his share of awards. He's won the Shazam Award for Outstanding New Talent in 1973, for Best Individual Short Story (Dramatic) in 1973 for "The Himalayan Incident" in Detective Comics #437, Best Individual Short Story in 1974 for "Cathedral Perilous" in Detective Comics #441, and the Shazam Award for Best Individual Story (Dramatic) in 1974 for "Götterdämmerung" in Detective Comics #443. All of these were for his work on Manhunters.
Another example of his work that I like is from 1988, and it's another collaboration with his wife. I recently got my hands on their Havok & Wolverine: Meltdown series, and it's some great work.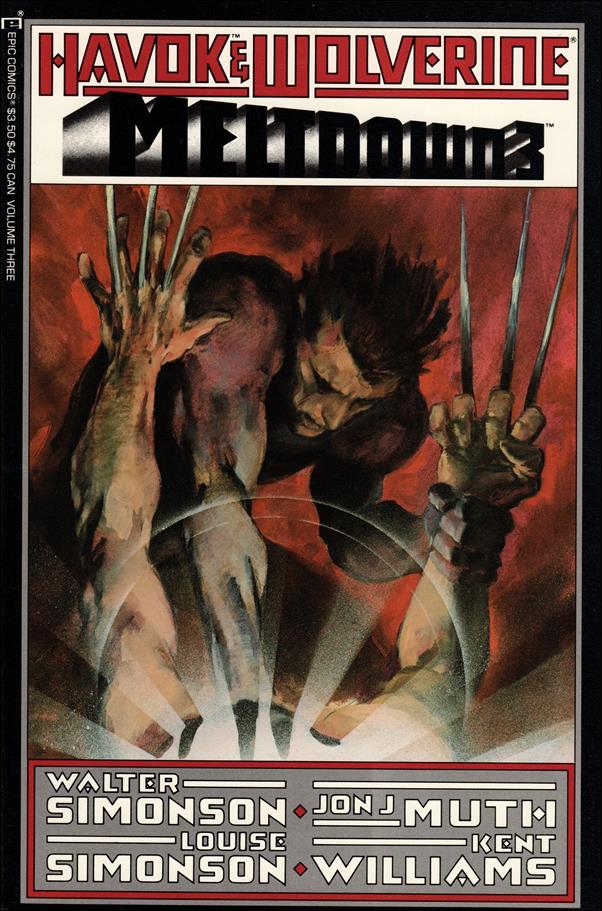 I appreciate very much the work this man has done, and he's not done yet. I especially like his runs on Thor and X-Factor; some of my most prized comics are from his time spent on these titles. Walter Simonson is another in the long line of creators who've given us food to assuage our hunger for sequential reading. If comics were food, he'd be a gourmet chef.
Eli Anthony
eli@comicattack.net