BLACK MASK PRESENTS:
"GODKILLER" Weekly
A comic book series about fallen gods, quantum physics, weaponized orgasms,
and a boy on a quest for a new heart to save his dying sister.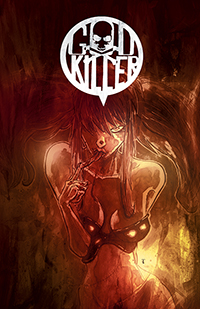 Godkiller   Ben Templesmith
Now wrapping up its critically-acclaimed debut slate, Black Mask Studios, the creator-supporting comics publisher founded by Brett Gurewitz (Bad Religion, Epitaph Records, ANTI- Records), Matt Pizzolo (founder OCCUPY COMICS, Halo-8), and Steve Niles (30 DAYS OF NIGHT), is presenting a sneak peek of its March 2014 offerings this week with plans to unveil the full slate next month.
EXPERIMENTATION – AN INDIE WEEKLY COMIC Taking risks on alternative approaches, Black Mask will launch its first weekly comic book series as Pizzolo brings his modern classic, beloved sci-horror franchise GODKILLER to comic book stores for the first time.
"I think we've all gotten used to a binge-diet for episodic stories. Personally I can barely handle waiting a week between episodes of  Boardwalk Empire, a month or more between comics sometimes feels like the decade-long wait for another Game of Thrones book," explained Pizzolo, "so I'm hopeful a weekly schedule might create a more intimate connection for readers.
"Plus, by structuring the releases weekly with breaks between arcs, we have to finish all the issues of each arc before they start streeting so that will decrease the likelihood of latenesses."
Godkiller started as a homespun digital animated series that exploded into 150 million homes with a genre-star-studded cast of collaborators including Davey Havok (singer AFI), Lance Henriksen (ALIENS), Danielle Harris (HALLOWEEN franchise), Lydia Lunch (punk icon), Bill Moseley (DEVIL'S REJECTS), Justin Pierre (singer Motion City Soundtrack), and Nicki Clyne (BATTLESTAR GALACTICA), inspiring a voracious fandom ranging from Godkiller tattoos to RPGs.
The weekly series brings Godkiller to comic shops for the first time, starting from the beginning while broadening the Godkiller universe and taking the story in new directions, timed out to sync up with the rollout of the next Godkiller animated series.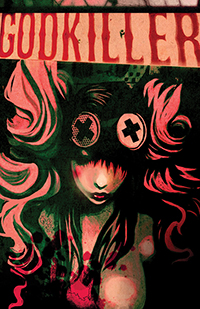 Godkiller #3 cover B: Anna Wieszczyk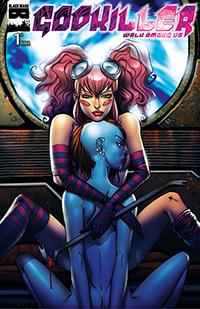 Godkiller #1  cover C: Tim Seeley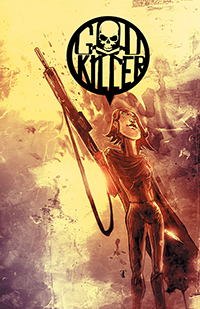 Godkiller #4 cover A: Ben Templesmith
GODKILLER #1
issues 1 – 4 street weekly in March (5 – 8 in April)
44 pages / Mature / Full-color / $3.99
"SAGA meets JOHNNY THE HOMICIDAL MANIAC."         (-Ain't It Cool News)
"A horrific yarn of apocalypse, quantum physics, culture jamming, and conspiracy theory."       (-Wired)
Synopsis: Quantum Physics.
Weaponized Orgasms.
Fallen Gods.
…and a boy on a quest for a heart to save his dying sister.         Matt Pizzolo (founder OCCUPY COMICS, Wired Magazine's "World's Most Wired Comics Creator") and Anna Muckcracker Wieszczyk spin the twisted tale of Tommy, a boy living with his dying younger sister in an orphanage run by fascist government The Republic. When he learns of an illicit stolen-organ trade catering to wealthy victims of atmospheric radiation, Tommy sneaks out of the orphanage and follows organ-stealers Halfpipe and Angelfuck into the savage land of Outer City on a quest to find a new heart for his dying sister.
"I've honestly never seen anything like Godkiller before… a disgusting and filthy good time. It will push your limits." (-Multiversity Comics)     
"Dares to get in your face and test your best inhibitions while making you THINK… flawless." (-Bloody Disgusting)
Creative Team:
Creator/Writer: Matt Pizzolo
Illustrator: Anna Muckcracker Wieszczyk
#1 Cover A: Ben Templesmith
#1 Cover B: Anna Muckcracker Wieszczyk
#1 Cover C: Tim Seeley
#2-4 A Covers: Ben Templesmith
#2-4 B Covers: Anna Muckcracker Wieszczyk
[Retailers: ask about special unlisted variant covers!]
Infinite Speech
infinitespeech@comicattack.net