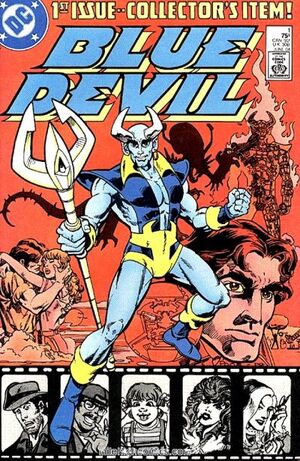 My very first comic book was surprisingly not a Marvel comic, which I am known for preferring. It was Blue Devil #1 from DC. I'm not sure why this was the first comic I purchased, but it somehow leapt off the rack at the local Piggly Wiggly in rural Alabama. Looking back on it, I remember two things about this book. One, it was about demons. An actor gets blasted by a demon and is suddenly stuck in the costume of a blue devil. Not sure how that slipped past my parents, who let me buy it, but I'm thankful it did. Second, it had a character who said, "Oh my God!" which in my family was a curse. I remember thinking that I had gotten away with something as I read this book, but it immediately connected me to another world.
Later, as a teenager, I was drawn to Todd McFarlane's Spawn, another book about demons, with a man who makes a deal with the devil to return from the dead to gain revenge on his killers. I really loved McFarlane's art at the time, and felt it drew me to another world.
At the same time as I was becoming a full-on fanboy, I was also being drawn by my faith as a part of my church community. I am now a priest in the Episcopal Church, and so my experiences with my faith have shaped the person I have become over the years; and that process started as a teenager, as I was reading books like Spawn and many others.
My sister, who is more fundamental in her Christianity than I am, confronted me once about how I could call myself a Christian and yet read books about demons and Satan and other evil beings. I can't remember how I responded, but I know that her question has stuck with me for years. At first, I felt like reading comics was antithetical to my faith, and at one point I decided to give up collecting. However, as years have gone by, I have felt more drawn to comics than ever, and it's because at my core, I believe there is a significant connection between comic books and religion.
Religion, as I see it, is humankind's way of explaining the unexplainable. It's an acknowledgment of powers and forces greater than we are. Ultimately, I believe religion draws us to the most profound human emotion and imperative: love. No matter what faith you may be, I believe religion's ultimate goal is to draw us closer together and  closer to whatever name we call "God." Through religion, we gain an idea of what's good and what's evil, and we wrestle with the places that exist in between those two. Religion, with its doctrines and stories, at best take us from the realm of what we can see, smell, touch, taste, and hear to a place that is sacred, different, and peaceful.
In many ways, I think comic books function similarly. They provide stories and ideas that help us explain the world around us. Even as fiction, comics serve as a window to that place where we experience another world, one that is special and for many comic fans, sacred. Comics teach us about the struggle between good and evil and the many shades of gray that exist in between.
All religions have stories, myths, and legends that are amazing, outlandish, and supernatural. They attempt to explain how the universe works, how human beings connect with God and with one another, and how we may be moved to become better than we are. The same could be said for comic books. Comics have become the modern parables of a postmodern culture.
Once a month, I am going to be exploring many different comics and their connections to the religious world in this column. Many of these are overtly religious books, like Chosen, Preacher, Kingdom Come, or X-Men: God Loves, Man Kills; while others may be books or characters that only have threads of religious thought in them, like Maus, Superman, the Hulk, and Spider-Man. These won't necessarily be reviews of the books, but will highlight the questions of religion that the book brings up. If you have any suggestions for books, feel free to e-mail me or post in the comments below.
While I come at this from a Christian perspective, I certainly expect and want to hear from others who are from other faiths or non-faiths. I do have some ground rules, because religion can be a touchy subject for people. First, all people and ideas will be welcomed and respected. Second, you may disagree, but don't be disagreeable. Third, this column is not an attempt at proselytizing for any faith or denomination, so don't expect to make converts. Finally, humor is key, so it's OK to poke fun or be irreverent, as long as it's in good fun.
Orthodox Christians have brought the art and spirituality of icons. Some have called these "windows to the sacred or holy." For me, comics are icons. They open my eyes to seeing a different world–a world of amazing possibilities, powerful stories, and holy people–and I hope they'll do the same for you.
Jeff Jackson
jeff@comicattack.net