Welcome to Comics Are My Religion, a look at theology through the lens of comic books. There are some basic ground rules about engaging in respectful dialogue about religion in this column. Be warned, if you haven't read the series discussed below, you might want to go read it and come back, as this column may contain spoilers!
"I think Hell's something you carry around with you. Not somewhere you go…They're doing the same things they always did. They're doing it to themselves. That's Hell." -Charles Rowland, Sandman #25
One of the most religiously-themed comics in the last 30 years has been Neil Gaiman's Sandman from DC Comics' Vertigo line. Gaiman's innovative fantasy tome has been hailed as one of the best runs on a comic- ever. I have to agree. It's one of the most unique books and has some of the best fantasy storytelling I've ever read. The other thing about Sandman is that it's truly timeless. To think that this was written in the late '80s is amazing because some of the things that Gaiman does would be innovative in today's comic culture.
In a nutshell, Sandman is about Morpheus, the King of Dreams, who in the beginning of the story is captured by mortals, escapes, and reclaims his throne. Many of the stories in Sandman are one-issue stories, depicting Morpheus's interactions with mortals in the world of dreams. They are all very creative, some are scary, some are heart-wrenching. Morpheus is but one of a pantheon of beings who are in control of different realms dealing with the human condition–despair, desire, destiny, and even death. This creates an unlimited number of imaginative stories that deal in fantasy, hopes, and fears, as Morpheus and his brothers and sisters interact with the human world.
This month, I want to focus on one story arc, although there are many that I would like to discuss in future columns, Sandman #21-28 entitled Season of Mists, as featured in The Absolute Sandman Volume 2 collection published by DC.
Season of Mists begins with Morpheus gathering with his brothers and sisters and coming to the realization that he needs to rescue a mortal from Hell (a mortal he fell in love with in a previous story, and then banished after an altercation). When he arrives in Hell, he finds that Lucifer, the fallen angel and Lord of the realm, has decided to abandon Hell. He exiles all the souls from Hell, and gives Morpheus the key.
This sets up an interesting dilemma for Morpheus. What should he do with Hell? Leave it closed up? Grant the dead and the demons who once existed there to come back? Morpheus struggles with what he should do, when he is visited by numerous parties who want to lay claim to Hell. Among the interested parties are Odin, Thor, and Loki of the Norse pantheon; Duma and Remiel, two angels of Heaven, who are there to observe the discussion; Azazel, a deposed lord of Hell, who thinks he is the rightful heir; Anubis and the Egyptian pantheon; Susano-O-No-Mikoto of the Japanese pantheon; a contingent from the Faerie world; and Lord Kilderkin and Shivering Jemmy, which are opposing manifestations of Order and Chaos, respectfully. All of these representatives (except the angels) vie for possession of Hell, and Morpheus must make the decision. I won't spoil what happens, but it's a very satisfying ending.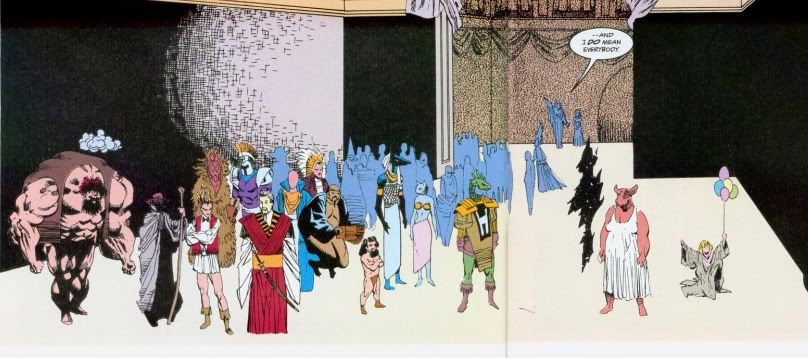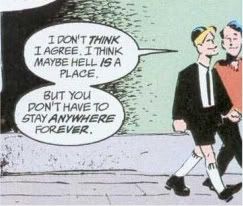 In the middle of the main Season of Mists story is a one-issue tale about a boy who is the sole student over the holiday break at his private boarding school. As a result of Hell's occupants being exiled, the dead rise and inhabit the school again. The boy attempts to live among these dead souls, but quickly finds that they bring suffering, torture, and pain, the very elements of Hell, along with them. In the midst of the story, the reader finds that Hell is not a place, per se, but a state of being.
What is Hell without the souls to inhabit it? Traditionally, the concept of Hell has many definitions. "The place of the dead" in many ancient religions, Hell became the place where unbelievers and unrepentant sinners reside for an eternity of punishment in Christian and Muslim doctrine. In many religions such as Judaism, Hell is more associated with a kind of purgatory, or waiting place, for souls to be judged and purified.
We typically think of Hell as a fiery and demonic place, which has been more informed by works of literature like Dante Alighieri's Divine Comedy and John Milton's Paradise Lost. Contemporary Christians, ironically, see Hell in light of these fictionalized versions rather than biblical ones. Biblical Hell is more of a state of being rather than a physical place. Perhaps the most physical representation in the Christian scriptures is in the Revelation to John, which is known to be an allegorical book rather than a literal one. Rather than dwell on the various facets of Christian concepts of Hell, which are varied among Orthodox, Roman Catholic, Mainline Protestant, and Evangelical Protestant factions, or any other religion, I want to focus on the concept of Hell as a state of being rather than a physical place, which is touched on in Sandman.
Hell can be better understood as complete and utter separation from the presence of God. Whether or not this is a consequence forced upon us by God when we do bad things or if it's a natural consequence if one chooses to live life unhealthily, selfishly, or sinfully, is up for debate. But Gaiman plays with all these concepts (even the fictionalized ones) in Season of Mists. Hell is a physical place. In fact, it is all the things the various religious doctrines and stereotypical stories surmise. But once the souls have left Hell, are they free from it? Gaiman determines that if one continues to hang on to the things that sent him or her to Hell in the first place, he or she may never be free. In essence, the soul takes Hell with them.
What does this mean for us, the readers? As with the doctrines I have learned, Sandman reminds me that Hell is a reality, and one that is more of a "here and now" reality than a "then and there" one. People experience Hell every day. Victims of sexual, physical, and emotional abuse, sufferers of mental illness, abusers of drugs and alcohol, those who have suffered the loss of loved ones, those who cling to hatred and violence and bigotry–these are the residents of Hell. Whether this Hell has been thrust upon them, or whether they decide to remain in it, these people experience Hell. Many people experience a lifetime of it. The fact is that despite our beliefs and doctrines, no one cognitively knows whether or not Hell is a place in the afterlife, but we know what Hell feels like because we experience it in our lives. We feel it when we are disconnected and utterly alone. When we feel separated from our God, or our communities, we know what Hell is like. We need not hope for such a place in the afterlife, since we have plenty in our present reality.
In the world of Sandman, Lucifer makes an interesting point: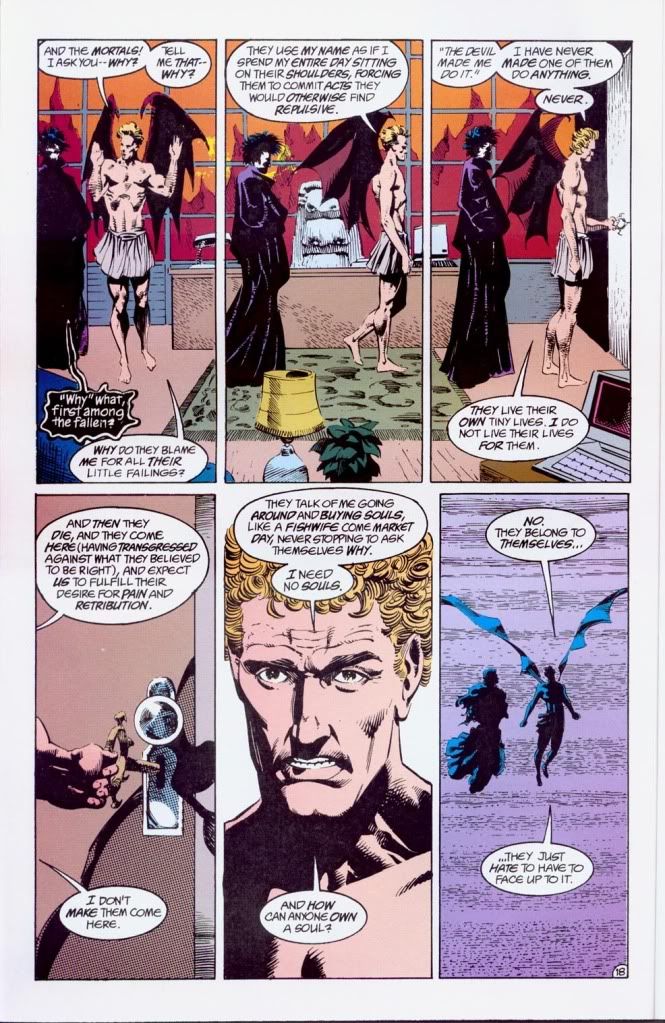 Are the concepts of Hell and the Devil realities that are put upon us, or ones that we create to justify our own sinfulness? Perhaps Hell is a future reality we create to punish ourselves, when in fact, by doing so, we are already experiencing Hell.
Perhaps Hell doesn't have to be an eternal reality. Through the help of our respective beliefs, doctrines, and faith communities, we do not have to experience Hell forever.
Morpheus learns a valuable lesson at the end of Season of Mists. Upon damning his once-love Nada to an eternity in Hell, he ultimately regrets his action. Nada spends ten thousand years in Hell before Lucifer's abandonment. After a tense scene where he apologizes to her, Nada forgives him. Thus, both are redeemed. Nada then gets to be reincarnated as a child, and lives life anew.
In the religious world, we are quick to condemn one another to Hell. If others don't believe the right things or subscribe to the right doctrine, we tend to want to group them and send them to an eternity of punishment. All the while, real people are suffering in Hell, and we do little to free them from it. Instead, we use our religion, the concepts that are supposed to teach us about love, freedom, and community, and use them to teach others about hatred, slavery, and loneliness.
Gaiman's Sandman teaches us that Hell need not last forever. Forgiveness, love, and redemption are more powerful anyway, and can transform us, revealing a much more significant reality. May we all learn from this and emerge anew.
Jeff Jackson
jeff@comicattack.net